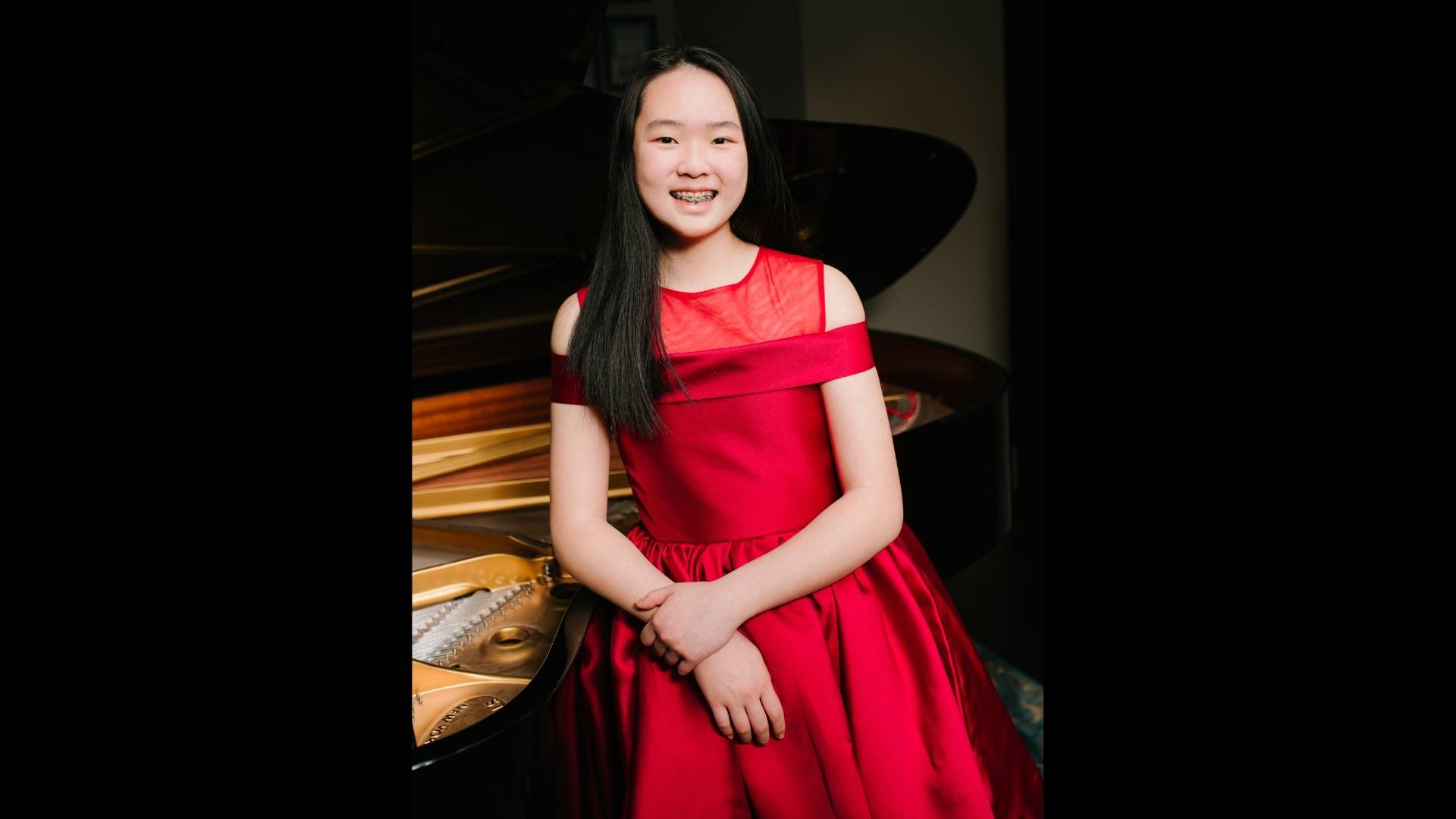 Rachel Wei
Livestream performance at 3 pm. Click here to view the livestream.
This thematic program features Viennese music from composers Mozart, Schubert, and Grünfeld. All three composers are Austrian and all three worked and died in Vienna. Mozart K. 311 was written in 1777 and Die Fledermaus was written about a hundred years later, while the Schubert was composed in the middle of that time period.
1. Sonata in D Major K. 311 by W. A. Mozart
2. Moment Musical No. 4 in C# Minor by F. Schubert
3. Soirée de Vienne by A. Grünfeld
Thirteen-year-old Rachel Wei has been learning piano as well as violin and flute since she was 5 years old. She has garnered a great deal of performing experience from an early age as a child prodigy.
A rising start, Rachel made her solo debut at age 10. She will be competing in the finals of the International e-Piano Competition in the summer of 2021. She has won numerous awards; these include first prize in the Bellagrande International Music Competition in 2020, first prize in the Steinway Competition in Vancouver, BC (Division Two and Three) in 2020 and 2019, second place in the Junior B piano category in the Performing Arts BC in 2019. The same year, Rachel was selected to compete at the Virginia Waring International Piano Competition.
She won the VAM Orpheum Theatre Concerto Competition in 2018 and played Prokofiev Concerto No. 3 with the Vancouver Academy of Music Symphony Orchestra. She was also a recipient of the Vancouver Academy of Music 27th and 28th Edith Lando Gifted Youth Scholarship top prize. In 2017, Rachel captured second place in the nine-year-old category in the National Finals of the Canadian Music Competition. In 2017 and 2016, Rachel received the Pacific International Youth Music Gala Trophy with a scholarship and received the highest mark overall in the competition. In 2015, Rachel was the youngest winner of the Crescendo International Music Competition, which led to her debut at Carnegie Hall's Weill Recital Hall in New York.
Rachel's musical activities extend far beyond the concert stage. She is keenly involved with the community through her music-making. She started "Good life music club" in 2016. The club has been performing monthly concerts for Maple residence senior village for five years. At a young age, she already has a profound understanding that music goes beyond the notes, and that music is about love and sharing as well as how it can reach people's hearts and unite people. She had a fundraiser concert for Canuck Place Children's Hospice in 2019. In 2018 she was awarded Canadian Young Artist by Tom Lee Music Canada.
Rachel attends 8th Grade at Crofton House School in Vancouver and she currently studies piano with Dr. Wayne Weng. She loves reading, math, and field hockey.